Services
Accounting Services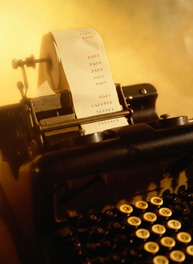 C. A. Barton Accounting offers a complete range of accounting services including Accounts Receivable, Accounts Payable, and Payroll Manage
ment.
Our firm will also prepare Custom Financial Reports for internal, managerial use.
We provide full-charge bookkeeping services, including General Journal and Subsidiary Ledger maintenance, Bank Statement reconciliation, and Receivables and Payables tracking and analysis.
We offer Accounting Relief, an ideal, cloud based accounting package that lets you collaborate with us by entering checks, deposits, or bookkeeping transactions on the same system we then use to analyze your trial balance and prepare your financials. We are able to customize this system for your benefit, so that it provides an ideal comfort level depending on your needs and your background in accounting. Because this system is Internet-based, both of us can log in to it securely, without the cumbersome process of transferring data back and forth between your computer and ours.
Click here for a demonstration video of our
state-of-the-art cloud system, Accounting Relief.
Tax Services


C. A. Barton Accounting offers a full range of tax planning and compliance services; working with you year-round in order to minimize your total tax burden. Our firm prepares all federal, state and local tax returns for individuals and businesses.
Tax Preparation
We understand that tax time is a stressful time of year for many individuals and businesses. Given the complexity of the ever-changing laws and the difficulty of interpreting them, you need a tax adviser who can not only ensure you've complied with the law, but also help you claim valuable deductions and credits you may have never suspected. Our firm goes out of its way to reduce the burden of paying taxes for all filers. We pledge not only to prepare your tax returns in the best-informed, most ethical manner possible, but also to work with you year-round as needed to plan a strategy that will minimize your total tax burden. We are qualified to prepare all federal, state, and local tax returns for individuals, corporations, partnerships, and fiduciaries.

We provide preparation of Federal, ALL States, and most Local/City tax returns.
Of course, we offer FREE e-filing for all of your qualifying tax report and tax return filings.
Tax Planning
We continuously monitor federal, state, and local tax law changes to allow our clients to minimize current and future tax liabilities. If necessary, we can implement tailor-made, due-date tax compliance monitoring systems to prevent costly interest and penalty assessments attributable to late filing.

Payroll Services


Since you have trusted us to handle your tax and accounting services, trusting us to handle your payroll needs is the next logical step towards simplifying your business life.
We offer you the same comprehensive payroll service you'd expect from national service bureaus, with three key differences--
1. SUPERIOR PERSONALIZED SERVICE
2. TOTAL FLEXABILITY
3. THE BEST VALUE
Unlike the big payroll service bureaus that use a "one size fits all" approach, our Payroll Relief AC payroll service can be precisely designed to meet your unique needs.

Our service includes check printing, direct deposit of pay checks, electronic tax payments and tax filings, complete compliance, and more. You will receive all the payroll reports you need to run you business most efficiently, and you will also get personalized professional advice on all payroll matters for your firm.

Our completely flexible state-of-the-art system offers remarkable capabilities that enable our firm to work collaboratively with you. Based on our intimate knowledge of your business and our personal consultation with you, we will design a payroll service that is optimal for your company's needs. You won't find this level of service from any service bureau at any price.
Click here to see a demonstration video of our
state-of-the-art Payroll Relief AC system.